Real-Time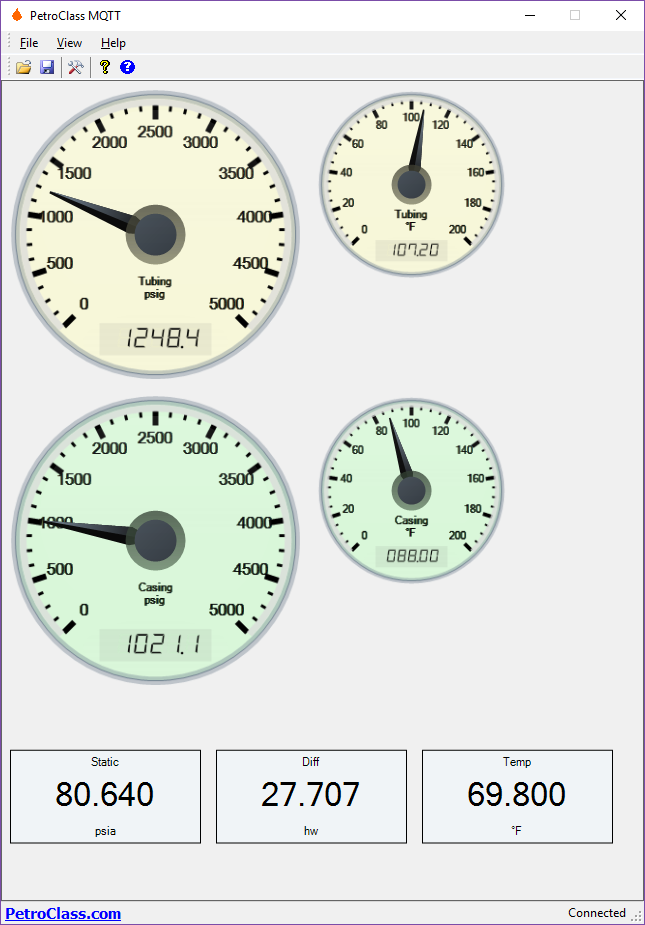 The PetroClass Real Time Monitor (RTM) is an easy to use tool to view your well site SCADA instrumentation in real time. The RTM interfaces with our FlowTest software providing a real time data feed. Setup is simple, just set a couple hardware parameters and you're up and running!
Key Features (supported protocols):
Industrial Internet of Things (IIoT).

MQTT (Message Queuing Telemetry Transport).
Compatible with local and cloud based MQTT brokers.
Works well with the Eclipse Mosquitto™ open source MQTT broker.
Use in conjunction with Node-RED.

Create advanced flow configurations.
Create cloud based dashboards, free from proprietary paid solutions.
See our Shack IoT project for more information.

Industry standard modbus protocol support.

Wired or wireless connections over ethernet or serial networks.
Supports TCP, RTU and ASCII modbus protocol.

Easy to configure.
Superb graphical display of instrument readings.
User defined variable sample rate.
Use standalone or stream real time data to FlowTest.
Included free of charge with a FlowTest software license.